2018-08-06 20:25:00
Strategies in Light and The LED Show 2018
We successfully attended "Strategies in Light and The LED Show 2018" in Long Beach, CA USA from February 13 – 15, 2018, our booth Number: 538, with our experienced and professional service, we received and provided detailed and easy understanding explanation for the customers.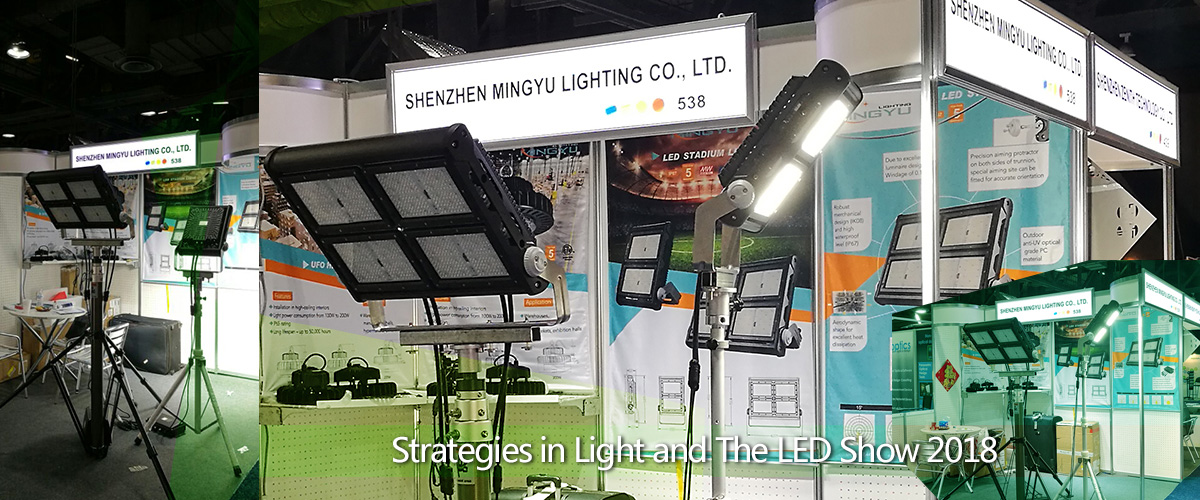 Our 360W/480W/720W/960W IP67 IK08 premium LED stadium / high mast / flood/ spot lights were shown during the lighting fair , widely used as outdoor lighting, such as installed at seashore, football field, docks, squares, tennis courts, etc. The outstanding advantage is below,
● Aesthetic styling suitable for industrial and other outdoor locations.
● LED module made by cold forging #1070 aluminum, creates product with a higher impact strength, a higher structural integrity, and better heat dissipation capability.
● The Top Series has a slim, low profile and lightweight design, can minimizes wind load requirements.
● Fixture bracket made by 304 stainless steel, suits for heavy duty environment.
● Equipping world top LED brand Nichia high power LED chips, provides remarkable 130lm/W lumen efficacy with long life span; can be an ideal replacement solution to conventional metal halide fixtures.
● Create ultra-uniformity, low glare and spill light for outdoor lighting applications.
As a professional industrial lighting provider, We will continue to provide customers with more professional and effective lighting solutions.
We look forward to meeting you again next time in the lighting fair.